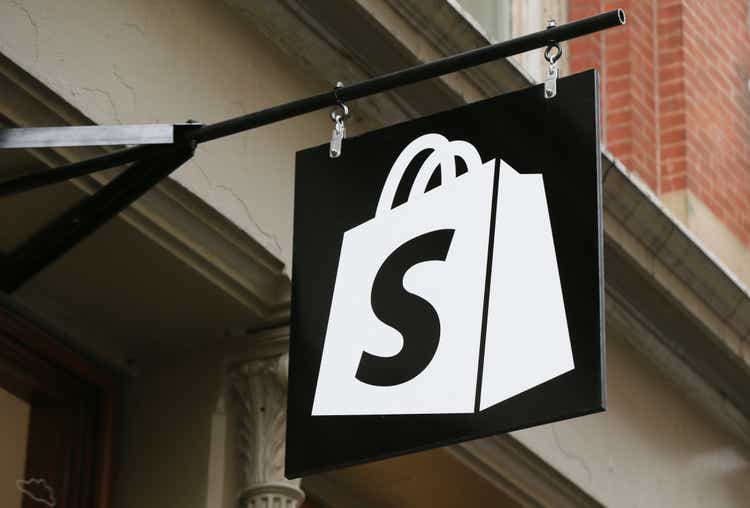 Introduction: Shopify's Stock Is In Free-Fall After Q4 2021 Results
Last month, Shopify (NYSE:SHOP) reported strong results for Q4 2021; however, its stock is plunging as if the company is about to go bankrupt within days. Over the last few months, we have seen massive price drops in small-cap growth stocks; however, a proven tech-titan like Shopify losing roughly two-thirds ($150B) of its market capitalization within a few months (four to be exact) is unreal.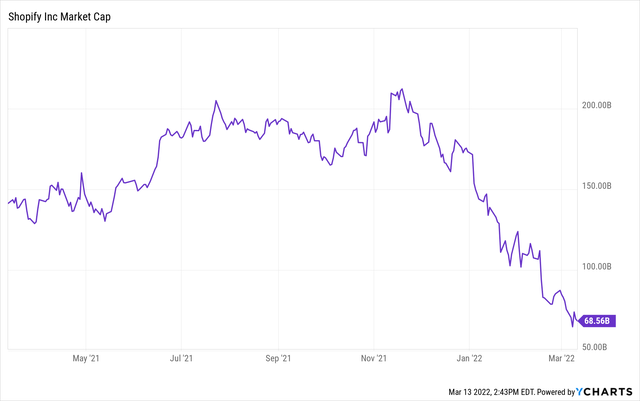 I have pointed out multiple times in recent weeks, this market has lost sanity. With that being said, Shopify's price action shouldn't baffle anybody. We have researched Shopify extensively over the past couple of years, and every time our conclusion has been that – "Shopify is a great business, and we want to own it, but it's too expensive".
Here's our past research work on the company:
Now that Shopify's stock has come in a lot, is it an opportunity to buy into this amazing growth story?
In today's note, we shall study Shopify's latest quarterly report to gauge the health of its business. Later on, we will identify the factors behind Shopify's rapid decline. Lastly, we will re-evaluate Shopify's fair value and expected returns to make an informed investment decision.
Analyzing Shopify's Q4 Results
In 2021, Shopify's GMV came in at $175B, up 47% y/y despite tough comps. The secular tailwinds for entrepreneurship and e-commerce are not fading away in the post-pandemic world; however, Shopify's spectacular growth rates are normalizing. In Q4 2021, Shopify's GMV grew at ~31% to reach $54B.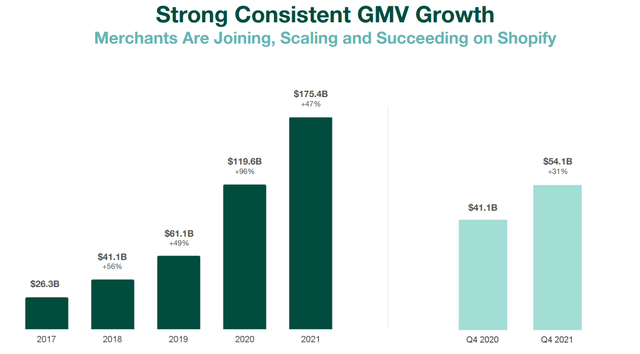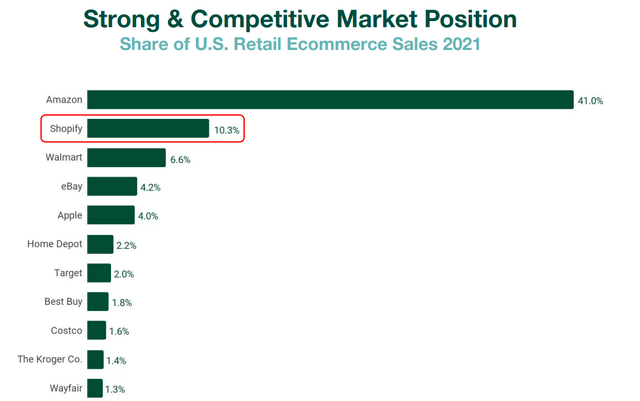 As of 2021, more than ten percent of all US retail e-commerce was conducted through Shopify's platform, which means it is the second-largest e-commerce player behind Amazon.
In Q4, Shopify's revenue came in at a record $1.38B (up 31% y/y). With revenues growing faster than GMV, it is fair to say that Shopify's take rate is improving as the company adds more products and services for merchants on its platform.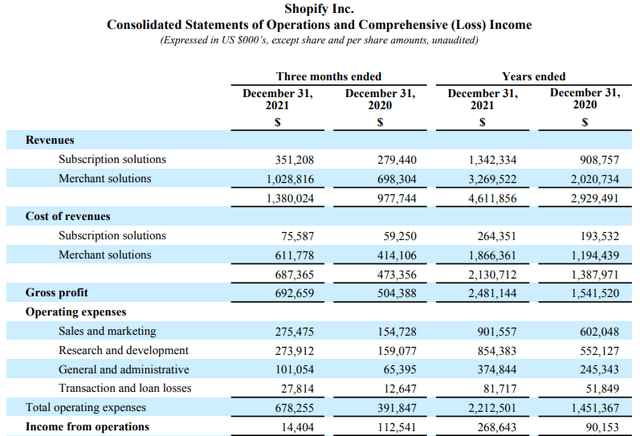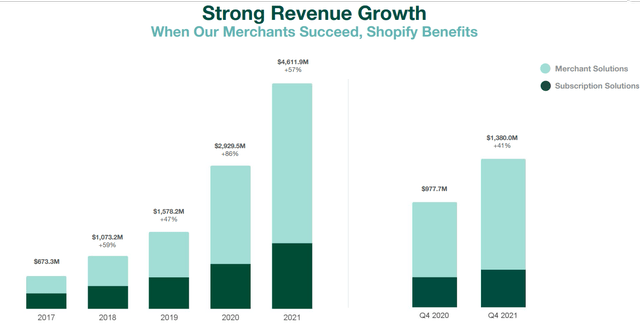 In line with strong revenue growth, Shopify's gross profit dollars are expanding rapidly. However, Shopify's management is re-investing nearly all of its gross profit back into the business via greater operating expenses (growth OpEx), masking Shopify's profitability.
For 2021, Shopify recorded total revenue of $4.6B (up 57% y/y), which represents stellar growth when we factor in the 86% jump in revenue in 2020. The COVID-19 pandemic boosted e-commerce penetration significantly (from 12% to 25% of total retail sales in the US), and Shopify was a big beneficiary, as evidenced by revenues ~3x in 2 years). While subscription solutions revenue growth for Shopify has been slowing for multiple quarters, the adoption of newer merchant solutions like Shopify Payments (Shop Pay and Shop Pay Installments (Powered by Affirm (AFRM)) and Shopify Capital is looking robust.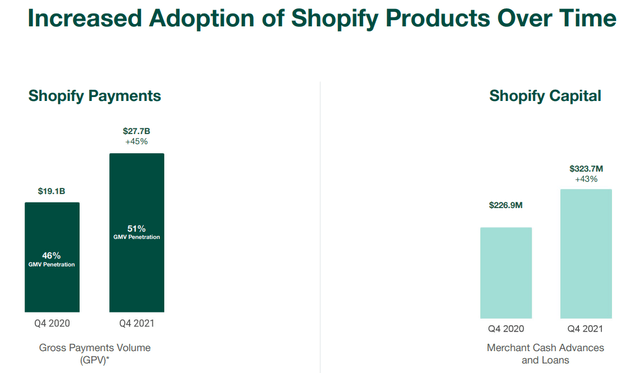 Shopify's operating numbers do not represent a business in crisis. Yes, revenue growth rates are decelerating, but that is a result of tough comps and a normalized demand environment post-COVID. While the ~41% y/y growth seen in Q4 may look pale in comparison to previous quarters, Shopify is still growing at a healthy clip.
Looking at Shopify's balance sheet, I see ample liquidity to drive future growth. As we know, Shopify is building the infrastructure of e-commerce for entrepreneurs and SMBs (and big brands too), which represents a TAM of $160B+. Furthermore, Shopify is making investments into new products and services that can expand its TAM. Lastly, geographic expansion is also increasing Shopify's addressable market.
With cash of ~$7.7B and debt of $0.9B (senior convertible notes), Shopify has a net cash position of ~$6.8B. In my view, Shopify has enough firepower to drive future growth.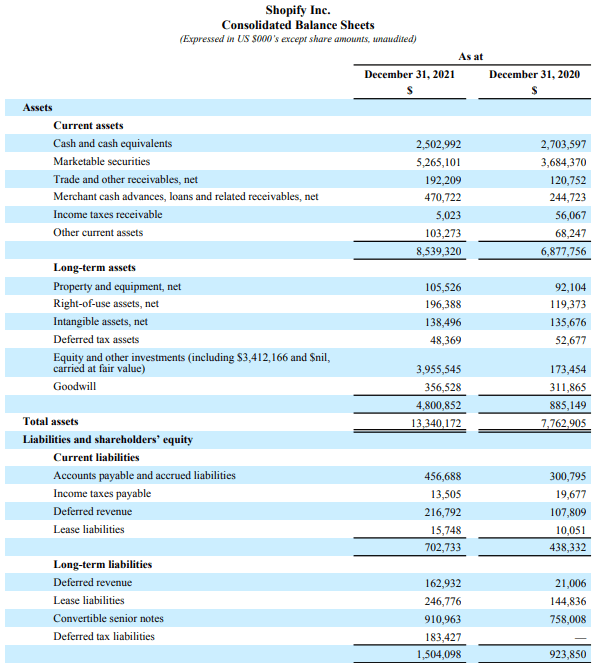 Furthermore, Shopify's operating cash flows have stayed positive in 2021. As we have seen already, Shopify is a very profitable venture (by gross profits), and so, we don't need to worry about a cash burn situation.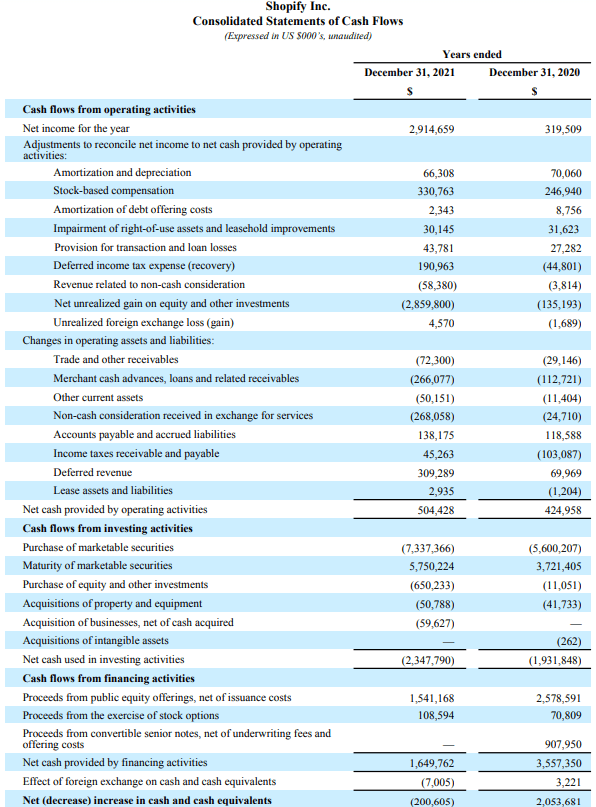 After analyzing Shopify's quarter, it is tough to digest the ~70% drop in its market cap (that's materialized over the last few months). However, markets are forward-looking, and assets are priced on the future stream of free cash flows they will produce.
Why Is Shopify Crashing? Decelerating Growth, Vague Guidance For 2022
Despite continued tailwinds for e-commerce, Shopify's business flywheel is likely to slow down in 2022 due to a more challenging macroeconomic environment and an obvious pull-forward in demand (over the last two years).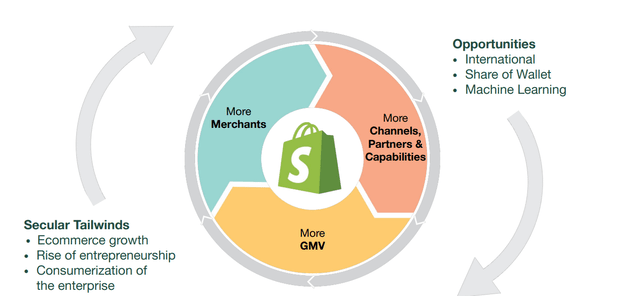 As we know, the market hates uncertainty, and Shopify's outlook for 2022 is absolutely vague. Read for yourself:
Shopify's management guidance for 2022: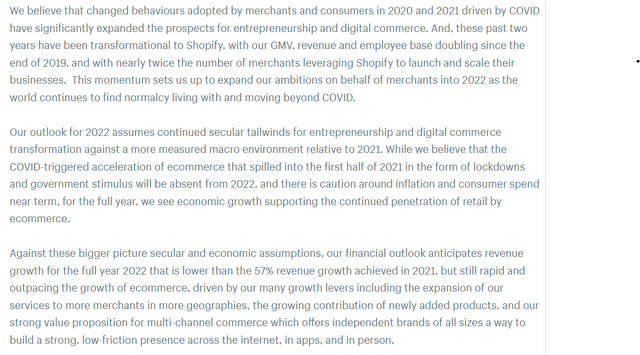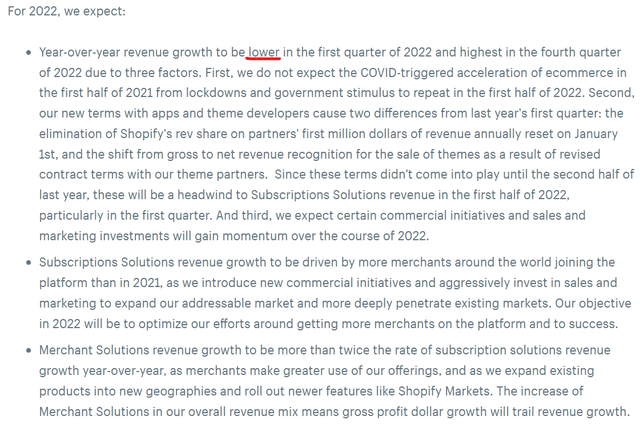 My takeaway from this guidance is that Shopify's growth rates are set to decelerate massively in 2022, and re-investments are going to take Shopify back to breakeven (even negative) free cash flow. Despite being a spectacular growth compounder for several years, Shopify is barely profitable on a net-income basis (if we take our one-time items out of Shopify's 2021 financials). In recent months, the market has turned sour on growth stocks as investors face surging inflation. Recently, we have talked a lot about the impact of macroeconomic factors on stock valuations, but in my opinion, Shopify's valuation is simply mean-reverting.
In 2020, Shopify's P/S multiple expanded from ~20x to ~60x within a few months as the company registered triple-digit growth on the back of strong demand (induced due to the pandemic). As pointed out in our previous research work on Shopify (back in July 2020), the stock was indeed getting ahead of its skis.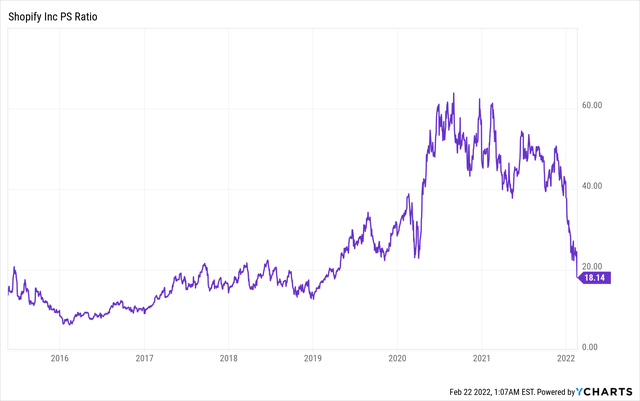 We have always been bullish on Shopify as a company; however, we have avoided its stock for more than 18 months now. Despite a rapid contraction in P/S multiples, Shopify could yet have more downside. Some other pandemic winners, i.e., Zoom (ZM), Teladoc (TDOC), and Roku (ROKU), are trading at P/S multiples of 9x, 5x, and 5x respectively. Zoom has similar growth and better margins than Shopify, yet it has half the multiple of Shopify. Teladoc is growing slower than Shopify from a much lower base, so that's not a great comparison. However, Roku is growing faster with better margins than both Shopify and Zoom, and if the market is pricing Roku correctly, then Shopify could have another ~60-65% to lose. This relative analysis fails to factor in the quality of Shopify's business. I think it is fair to say that Shopify has a much more powerful moat compared to any of the three companies mentioned above, and so it deserves a premium valuation. However, that premium is subjective to market conditions, and right now, I don't know what premium the market will be willing to pay for Shopify's business quality.
Hence, we must determine Shopify's absolute fair value and base our investment decision solely based on that value (as if the market doesn't exist). But before we do so, let's review our investment thesis for Shopify to remind ourselves of the motivation for owning this business.
BTM's Original Investment Thesis For Shopify
A permanent shift in consumer spending from brick-and-mortar to online stores has been going on for several years/decades with the rise of big marketplaces like Amazon (AMZN). However, budding entrepreneurs and small retailers were being largely left behind.

With this landscape as our backdrop, Shopify was quietly developing what would become the most valuable small-business-oriented online store builder. As I related in my "The Anti-Amazon Awakens" article (link), Shopify offers an incredibly powerful platform (read: operating system on which users employ low code to create stores) that empowers these entrepreneurs and SMBs to set up and run online stores quickly; on top of which, Shopify provides merchant solutions that help its stores with backend services like order management, shipping, payments, inventory management, etc.

An individual could set up his/her online store within hours and run it effectively across multiple channels directly through Shopify's platform. In short, Shopify is helping the "Davids" out there combat "Goliath", i.e., Amazon.

Furthermore, the COVID-19 pandemic has only served to hasten the steady transition from brick-and-mortar retail to online shopping. And as technology continues to evolve, it's extremely imaginable to see a world where malls become virtually obsolete (with the advent of virtual reality and the benefits thereof in terms of experiencing products and trying on clothing).

In the near term, however, small businesses have been forced to adapt their operations into an online format so as to survive through the shutdowns. As consumer spending continues to move towards online stores, every retail business will need to have an online sales channel (specifically omnichannel, at which Shopify specializes) if they wish to survive and thrive.

Before the pandemic, e-commerce sales contributed to just 12% of total retail sales, which highlights the extent to which e-commerce can further penetrate. According to Shopify's COO, this figure has increased to ~25% due to the pandemic, which should translate in much higher Gross Merchandise Value [GMV] processed through Shopify's platform. From my perspective, the change in consumption patterns will be largely permanent.

To these ends, my investment thesis for Shopify revolves around the following points:

Shopify is building the infrastructure of e-commerce for the next decade, and that means it is addressing a large ($160B) and expanding total addressable market.
Growth in e-commerce (domestically and internationally) will spur increased revenues at Shopify.
A higher number of merchants on Shopify's platform will boost revenues, free cash flow, and thus share price.
Shopify's partner-positive strategy (it does not compete with the sellers on its platform) will ensure that Shopify remains the go-to solution for existing user base and potential clients.
Shopify has several growth drivers like fulfillment network and channel partnerships with Walmart (WMT), Facebook (FB), Amazon, etc. Hence, Shopify could very well become Amazon's primary challenger in the future.
Now that we have revisited our original investment thesis for Shopify, let's re-evaluate Shopify's fair value to see if it is worth buying at today's prices.
SHOP Stock's Fair Value & Expected Return
To determine Shopify's fair value, we will employ our proprietary valuation model. Here's what it entails:
In step 1, we use a traditional DCF model with free cash flow discounted by our (shareholders) cost of capital.

In step 2, the model accounts for the effects of the change in shares outstanding (buybacks/dilutions).

In step 3, we normalize valuation for future growth prospects at the end of the ten years. Then, using today's share price and the projected share price at the end of ten years, we arrive at a CAGR. If this beats the market by enough of a margin, we invest. If not, we wait for a better entry point.
Despite a post-pandemic normalization in Shopify's growth rates, it is still set to grow rapidly (~30%) in 2022. We do not have a concrete number from Shopify's management for 2022 sales (guidance); however, consensus analyst estimates of $6B seem pretty conservative (considering Shopify's secular growth opportunity). With Shopify building its own fulfillment network, its long-term gross margins are likely headed lower from here. With that said, Shopify should be able to comfortably generate free cash flow margins of ~25-30% in the long run. I believe the remaining assumptions are pretty straightforward, but let me know if you have any questions in the comments section below.
Assumptions:
| | |
| --- | --- |
| Forward 12-month revenue [A] | $6 billion |
| Potential Free Cash Flow Margin [B] | 25% |
| Average diluted shares outstanding [C] | ~128 million |
| Free cash flow per share [ D = (A * B) / C] | $11.71 |
| Free cash flow per share growth rate | 22.5% |
| Terminal growth rate | 3% |
| Years of elevated growth | 10 |
| Total years to stimulate | 100 |
| Discount Rate (Our "Next Best Alternative") | 9.8% |
Results: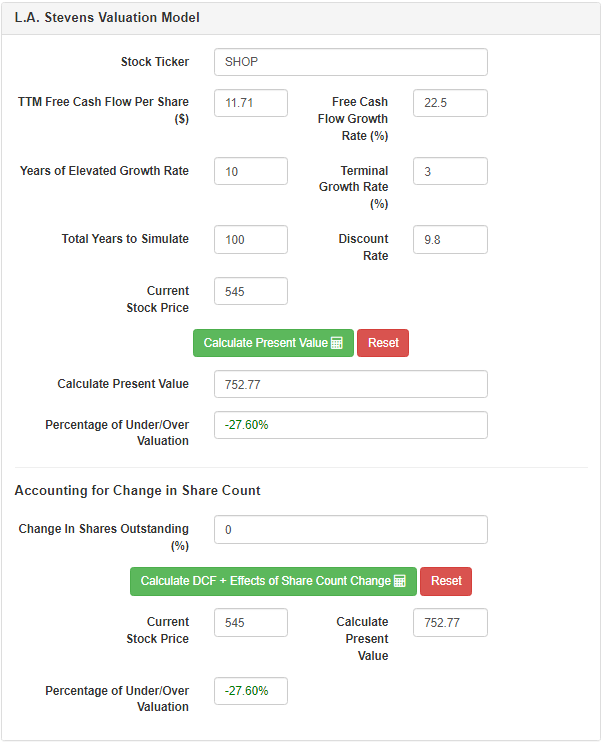 As you can see above, Shopify's fair value stands at ~$750 per share, i.e., it is currently undervalued by ~28%. Now, let's take a look at the expected returns on a ten-year investment. To determine the expected returns, our model calculates a projected FCF per share value (yr-10) and multiplies it with an assumed Price to FCF multiple (35x here), thereby generating a 2032 price target. Using this price target, the model generates an expected CAGR return.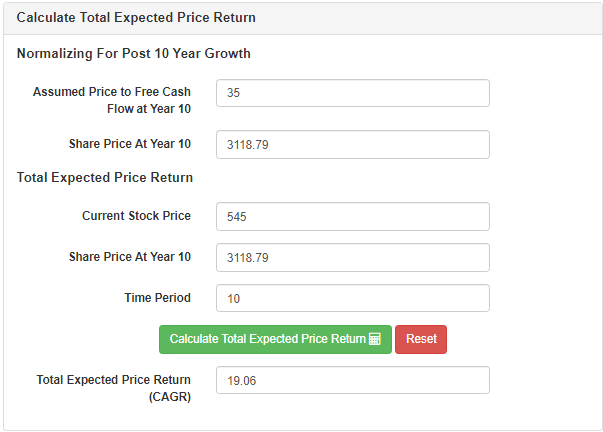 According to these results, Shopify's stock could be trading at $3118 by 2031, which would imply a ten-year expected CAGR return of 19.06%. Since these returns exceed our investment hurdle rate of 15%, Shopify is a buy.
Concluding Thoughts
At this point in time, we have several high-growth stocks offering future returns well above 25%; however, Shopify trading below fair value and offering returns higher than our investment hurdle rate is quite a rarity. While Shopify's stock is broken, the business seems to be humming along just fine. This opportunity is too good to pass upon, and so I like the idea of accumulating Shopify's shares over the coming weeks and months.
Since we are in a vicious downtrend, Shopify may go lower in the near term (especially because it is a relatively expensive growth stock). Shopify is worthy of being a 4-5% position in any long-term oriented growth investors' portfolio, but we must accumulate the long position slowly (spreading out the buys over the next 12-24 months is a fine idea). Although Shopify is a buy right now, it's not a BTM Weekly Top Idea just yet, and we would only make it one if it fell below $500 per share (expected CAGR of 20%+).
Key Takeaway: I rate Shopify a buy at $550
Thank you for reading, and happy investing. Please feel free to share any questions, thoughts, or concerns in the comments section below.